Milestones Jazz Club's 20th Anniversary Gig!
Due to ill-health Don Weller will not be appearing at this concert with Alan Barnes. However, we are pleased to announce that Karen Sharp has agreed, at very short notice, to take his place.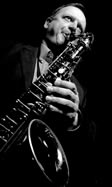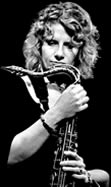 Alan Barnes
and
Karen Sharp
with
The Chris Ingham Trio

To mark its 20th anniversary Milestones brings together two great saxophonists of UK jazz.
The virtuoso playing of Alan Barnes (alto/baritone sax) and Karen Sharp (tenor sax) is characterised by an unfettered mix of commitment, enjoyment and quiet passion equally at home with breakneck bebop, funky hard bop or heartbreaking ballads. A high energy programme of standards given superb support by Chris Ingham (piano), Mick Hutton (double bass) and George Double (drums).
Not to be missed!
Watch YouTube footage of Alan and Karen together here, Alan here and Karen here. Also listen to Alan here.


Admission - £10


"Barnes plays music that was radical 50 years ago - hard, urban post-bop - but he infuses it with so much passion and energy you could believe it was minted on the spot"
The Guardian
"Whatever the instrument, Alan (Barnes) plays it hard and fast and with the sort of inventive flexibility and invention that ensures that he has his own sound and style and could not be easily be confused with another player. And in these days of musical conformity that is quite something"
Jazz Journal
"…remarkable young tenor saxophonist Karen Sharp seems to have the complete kit - warm, singing tone, melodic flair, great sense of swing and an ear for good material"
The Observer
"…confirms what I have already observed, that over the past three or four years, she has steadily - I might almost say stealthily - developed into a major artist on the scene"
Humphrey Lyttleton, BBC Radio 2
"Stylish, big-toned, vaguely in the "Texas" tradition, aptly describes Karen Sharp's tenor playing…Karen swings and I can't say better than that. You should all hear Karen if you appreciate good tenor playing"
Jazz Journal International