Welcome to Milestones Jazz Club, since 1996 Lowestoft's premier jazz venue!
Whilst catering to a wide range of styles, Milestones highlights the more modern end of the jazz spectrum in an informal, friendly atmosphere. From small trios to 18-piece big bands, we feature everything from bebop to hard bop, latin to fusion, cool jazz to free jazz. For details of our next gig see below
World class musicians performing in recent years have included Peter King, Don Weller, Ingrid Laubrock, Henry Lowther, Jack Parnell, Jim Mullen, Roger Beaujolais, Polly Gibbons and The Eastern Bloc Big Band.
Milestones is resident at Hotel Hatfield, Esplanade, Lowestoft and opens its doors at 8pm on the first Sunday of every month with an admission price of £7 or £6 concessions - no club membership necessary. For enquiries, information on how to find us or to join our extensive mailing list please click here

*** NEXT GIG: SUNDAY 1 MARCH ***



Pete Oxley and Nicolas Meier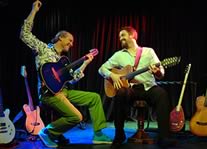 A sophisticated duo of guitarists, Oxley and Meier (currently with The Jeff Beck Band!) travel on a contemporary journey through jazz on a collection of acoustic and electric guitars via Latin American, Spanish and Middle Eastern influences. Performing originals and modern standards by Chick Corea, Milton Nascimento and Pat Metheny. Not to be missed!
Listen to Pete and Nicolas's music here and watch YouTube footage of Nicolas in various musical settings here. Visit Pete's website here and Nicolas's here. There's also an interview with Pete and Nicolas here.


"His own playing is quite masterly and he writes the kind of themes that invite and inspire improvisation"
The Observer
"Oxley is an imaginative explorer of both acoustic guitar and plugged effects…"
The Guardian
"Meier is elegant in tone and bubbling with ideas... his originality as a writer, a player and a team leader dispatches any doubts"
The Guardian
"...Since John McLaughlin melted frets with the Mahavishnu Orchestra we have become used to frenetic guitar-led groups. None, however, quite mixes styles and sounds like that of Meier, a Swiss player as happy in flamenco and Arab melodies as he is in Western jazz"
The Times

Admission - £7 / £6 (concession)
"OK, we're in a recession. Now you can all know what it's like to be jazz musicians".
Saxophonist Gilad Atzmon to the audience at The Bath Festival, 25 May 2008, quoted in The Guardian (31 May 2008)
The refrain will be coming soon: that's the part I like the best and the abrupt way in which it flings itself forward, like a cliff against the sea. For the moment it's the jazz that's playing; there's no melody, only notes, a host of little jolts. They know no rest, an unchanging order gives birth to them and destroys them, without ever giving them time to recover, to exist for themselves. They run, they hurry, they strike me with a sharp blow in passing and are obliterated. I should quite like to hold them back, but I know that if I managed to stop one, nothing would remain between my fingers but a vulgar, doleful sound. I must accept their death; I must even will it; I know of few harsher or stronger impressions.
From 'La Nausée', Jean-Paul Sartre (1938)
"The blues is real, it's not perverted or thought about, it's not a concept. It is a chair, not a design for a chair, or a better chair or a bigger chair or a chair with leather on ... it is the first chair. It is a chair for sitting on, not for looking at or being appreciated. You sit on that music".
John Lennon interviewed by Jann S Wenner, 'Rolling Stone' (1970)